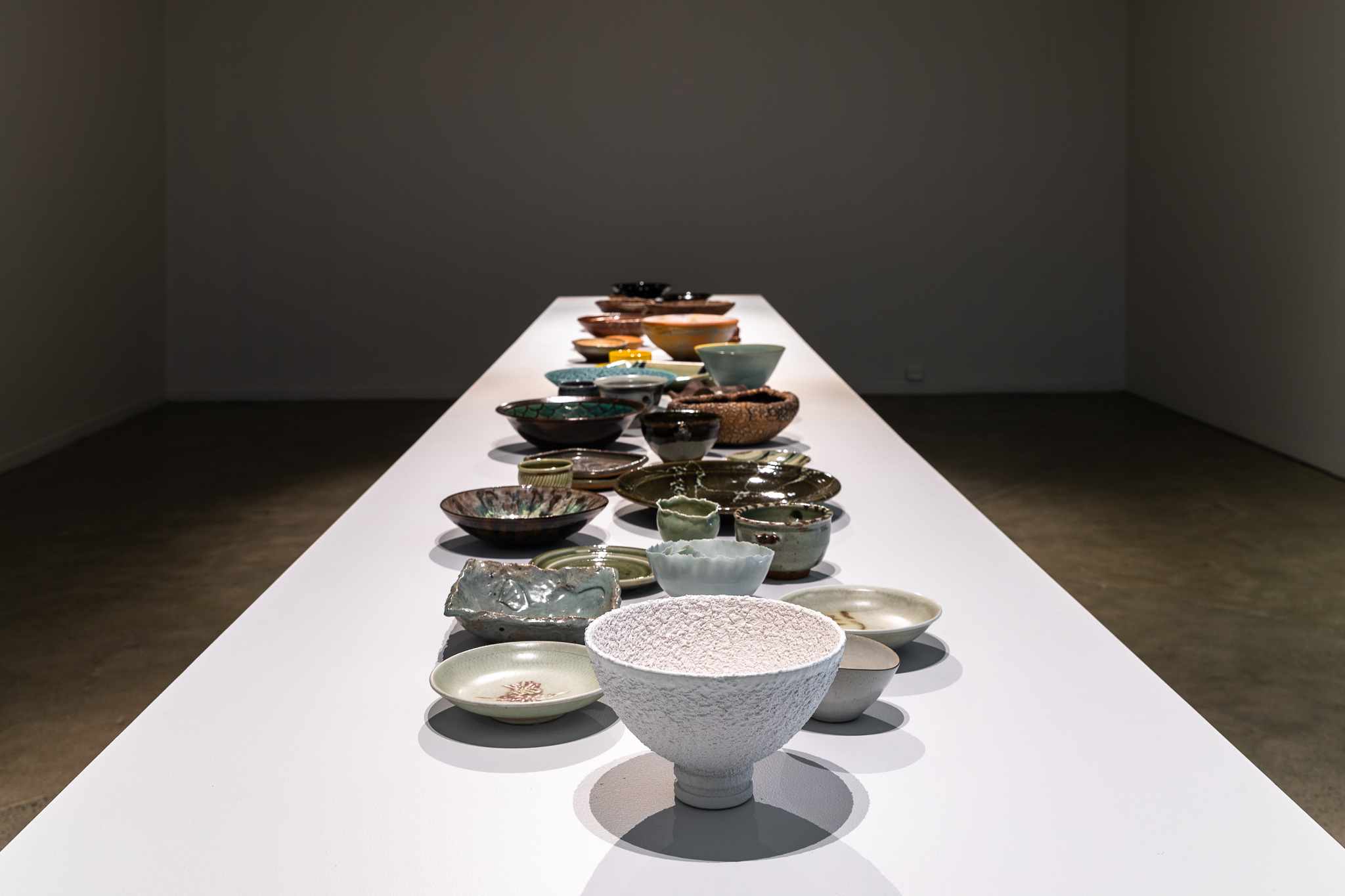 From the Ground Up: Community, Cultivation and Commensality brings together seven different approaches and perspectives to food cultivation and its consumption.
Including new works by BC Collective (Cora-Allan Wickliffe and Daniel Twiss), Xin Cheng and Adam Ben-Dror, Aroha Gossage, Hōhua Thompson, Zoe Thompson-Moore, Rita Angus and ceramics from The Dowse Collection, From the Ground Up: Community, Cultivation and Commensality looks to the interdependent nature of food and people and specifically the conditions and ecologies of growing, making and sharing food.
As an essential part of our daily lives food is embedded in human culture and reflects critical aspects of personal and collective histories, tales of migration, guardianship and exploitation of land. The artists and artworks included in this exhibition investigate these personal, ecological and historical narratives of cultivation in Aotearoa, and commensality—the act of eating together—thinking through the politics of what it means to grow and eat together, of food as a conduit between people.
--------------
Artist biographies
BC Collective (BC stands for 'Before Cook' and 'Before Columbus'), was initiated at the Corban Estate Arts Centre as a way to share, engage and exchange Indigenous ideas and concepts by partners and collaborators, Cora-Allan Wickliffe (Ngāpuhi, Tainui, Alofi and Liku) and Daniel Twiss (Lakota Sioux, Rosebud Reservation). A multidisciplinary artist from Waitakere, Wickliffe returned to Aotearoa in 2016 after working at the Walter Phillips Gallery in Banff, Canada. Her practice often examines constructed identities of Indigenous people, developing platforms for the self-determination of such representations. Raised in Vancouver, Washington, Twiss' family relocated for a year to the Coeur D'alene Indian Reservation in Plummer, Idaho. His late father Richard Twiss was the co-founder of the Wiconi Organisation and a Professor of Native American Studies at Portland State University. They are based in Tāmaki Makaurau Auckland with their two children.
Xin Cheng likes to walk, and do stuff around making by hand, ecology, conviviality. While living in Hamburg from 2016-2019 she hosted performative talks and workshops on everyday resourcefulness in Berlin, Sheffield, Mexico City; befriended dancers, film-makers, philosophers, junk traders; wrote stories for hainamana.com; made books with Materialverlag and organised a multidisciplinary show on rubber trails. Returning to Tāmaki Makaurau Auckland before a virus changed the world, she is happy to continue her making-do(ing) with old and new friends. Her works have been shown in public galleries throughout Aotearoa and at International Biennial of Graphic Design Brno (Czech Republic), Sprint Milano (Italy), Frappant Galerie (Hamburg). She has done residencies in Norway, Taiwan, Cambodia, Switzerland, Korea, Japan. She was previously a co-director of the artist-run-space RM, Auckland and holds a Master Fine Arts from the Hamburg University of Fine Arts (Germany), and studied ecology, psychology and fine arts at the University of Auckland.
Adam Ben-Dror teaches design at Victoria University Wellington and volunteers in urban farms across Te Awakairangi Lower Hutt with Common Unity Project Aotearoa. Recently he has co-hosted an event series exploring free-form play and operates a makeshift cafe on wheels at climate activist events and gatherings. His work has been shown in Aotearoa at MEANWHILE and RM Gallery and internationally at The Barbican Centre (London), Tekniska Museet (Stockholm), Science Gallery (London), Design Week (Istanbul), Onassis Stegi (Athens). He has also presented works at The Performance Arcade and Performance Art Week Aotearoa. He designed interactive public sculptures for Auckland Council while working at Alt Group and his collaborative works have received multiple awards from the Designers Institute of New Zealand. Adam has a Postgraduate Diploma in Fine Arts from the University of Auckland and a Bachelor of Design Innovation from Victoria University Wellington. He also studied design and robotics at Carnegie Mellon University, Pittsburgh.
Aroha Gossage (Ngāti Wai, Te Āti Awa, Ngāti Ruahine/Ruanui, Ngāti Manuhiri) graduated with a Masters of Art & Design (Honours) Auckland University of Technology in 2015. Her work regularly focuses on a personal and spiritual relationship with the coastal area of Pakiri Little Barrier Island, the ancestral home of Ngāti Manuhiri.
Hōhua Thompson (Te Arawa, Ngāti Awa, Te Aitanga-a-Hauiti, Ngāti Kahu) is currently studying a Masters of Fine Arts at Whitecliffe College of Arts and Design in Tāmaki Makaurau Auckland. In 2019 he completed the Toi Māori, Māori Arts Internship based at Enjoy Contemporary Art Space in Te Whanganui-a-Tara whre he was researching and delivering public engagement and education programmes. Thomspon uses Māori practices of whakairo (carving), rāranga (weaving) and tukutuku (ornamental lattice work), which are his pūkenga tuku iho. His work is tied directly into his own cultural circumstances. By using aspects of his own experience as a Māori and the knowledge of Māori art forms gained from his tūpuna, then filtering them through his experience as a person of not only Māori whakapapa, but also pākehā, Hōhua aims to address the cultural hybridity experienced by Māori people in contemporary culture, and to decolonize the space in which they work and normalise this experience for others.
Zoe Thompson-Moore is a Pākehā artist based in Te Awakairangi Lower Hutt. Her practice is located at the intersection of art and the everyday; navigating the edges between creative practice and maintenance work; focusing on social fabric—in particular, sites and lived experiences of reproductive labour.
We would like to acknowledge the following people and organisations for their support in developing the exhibition: Creative New Zealand, Te Whare Hēra Residency, Dean Stewart, Ross Gardiner, Julia Milne, Jane Wilcox, Michael Bridgeman, Simon Morris, Melanie Oliver, Johanna Knox, Sam Longmore, Jacob Ben-Dror, Jesús Pulpón, Chinook Ulrich Schneider, Karla Bauer, Chris Berthelsen, Pascalino Schaller, Andrew Matautia, Daniel Lewis, Adam's whanau and Xin's parents.