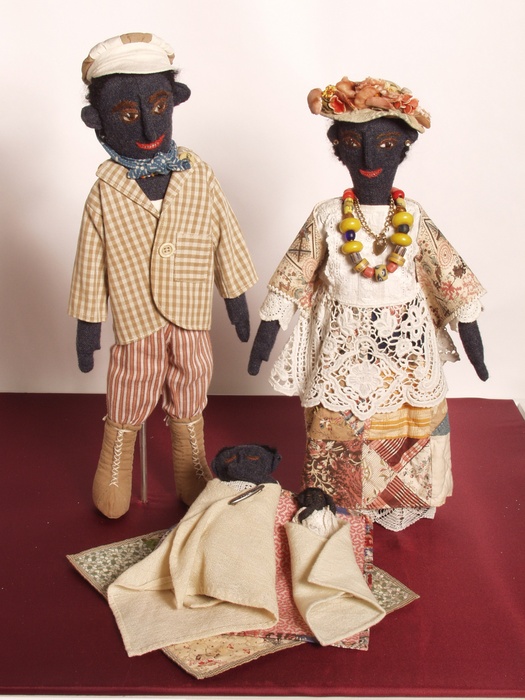 TheNewDowse is proud to welcome back The Family, a collection of 35 dolls lovingly hand-made by the late Malcolm Harrison.
This year we commemorate two important occasions - Malcolm's death, and the coming of age of youngest member Huttette, who celebrates her 21st birthday on 11 October.
The Family was created by Harrison in the 1980s from his collection of fabrics, trimmings and ornaments. They are an eclectic bunch that includes a hard-working bee-keeper, circus performer, gamblers and adulterers, naughty teenagers, a judo expert, a school teacher, musicians and a poet.
In 1987, The Family held their first public family occasion, an exhibition at TheNewDowse. Much to the public's surprise Chloe gave birth to a baby within days of the show opening. The baby was appropriately named Huttette.
"We have commissioned textile artist Vita Cochran, whose own work has been inspired by Malcolm's, to create a 21 year-old Huttette doll. And of course a 21st birthday party needs guests, so we have invited the public to create party-going dolls that will be displayed alongside the exhibition" says Wickham. PARTY GUEST ENTRY NOW CLOSED
EVENTS & ACTIVITIES:
Draw your family portrait on the gallery wall
TheNewDowse is inviting visitors to draw their own family portrait on the gallery wall! Special frame-shaped blackboards run the length of the gallery and chalk is provided.
Free activity, available daily
D.I.Y Creative Activity: Frame Your Family
Here's your chance to create a special one-of-a-kind magnetic photo frame for your favourite family snap-shot. Purchase the frame from the Info Desk, decorate it to your heart's content, take it home, insert your favourite photo and pop it on the fridge!
Price: $5
Q&A: Textile artist Vita Cochran, The Big Idea, Published 8 Oct, 2008
Craft 2.0 At The New Dowse, Media Release, Published 1 Oct, 2008