Dowse Venues
The Dowse Art Museum has a number of multi-purpose event spaces placed around an enclosed outdoor courtyard. The spaces can be configured in a multitude of ways to cater for anything from a workshop for 20, a formal lecture for 80, or to accommodate a seated dinner and reception area for 100.
A winner of numerous design and architecture awards, The Dowse is perfectly suited to a variety of corporate, community and social events, including weddings, conferences, receptions, fairs, seminars, birthdays, workshops and product launches—anything requiring an injection of creative flair!
There is pay and display parking for easy accessibility, and a regular bus service from downtown Wellington stops nearby. There is disabled access to all public spaces.
Our friendly team is happy to discuss any special requirements you may need.
The largest of our spaces with a high ceiling, great acoustics and access to the Courtyard.
Approximately 116m²
Cocktail: 100
Theatre-style: 100
Classroom: 60
*Please note that James Coe 1 will be unavailable for hire from 30 January to 4 September 2023.
Hire rate begins at $65 per hour.
A smaller room that can be fully enclosed or used as a break-out space to complement James Coe 1. It has beautiful natural light, with large glass sliding doors to access the central Courtyard. The floors are varnished wood.
Approximately 72m²
Cocktail: 80
Theatre-style: 50
Classroom: 30
Hire rate begins at $55 per hour.
Consists of James Coe 1 and 2 together. A moveable wall links these two spaces together. Perfect for large seated dinners or conferences requiring a breakout space.
Cocktail: 200
Theatre-style: 150
Banquet seating: 120
*Please note that the James Coe Centre will be unavailable for hire from 30 January to 4 September 2023.
Hire rate begins at $110 per hour.
A large reception area, perfect as an addition to James Coe 2 for evening events. It has access to the Courtyard and is bright and spacious.
Due to our opening hours, the foyer can only be used after 5PM, but this makes it great for cocktail-style events.
Approximately 106m²
Cocktail: 100
Hire rate begins at $58 per hour, $110 when combined with James Coe 2.
An intimate, well-lit space that is perfect for smaller meetings with minimal catering.
Approximately 25m²
Boardroom: 12
Hire rate begins at $30 per hour.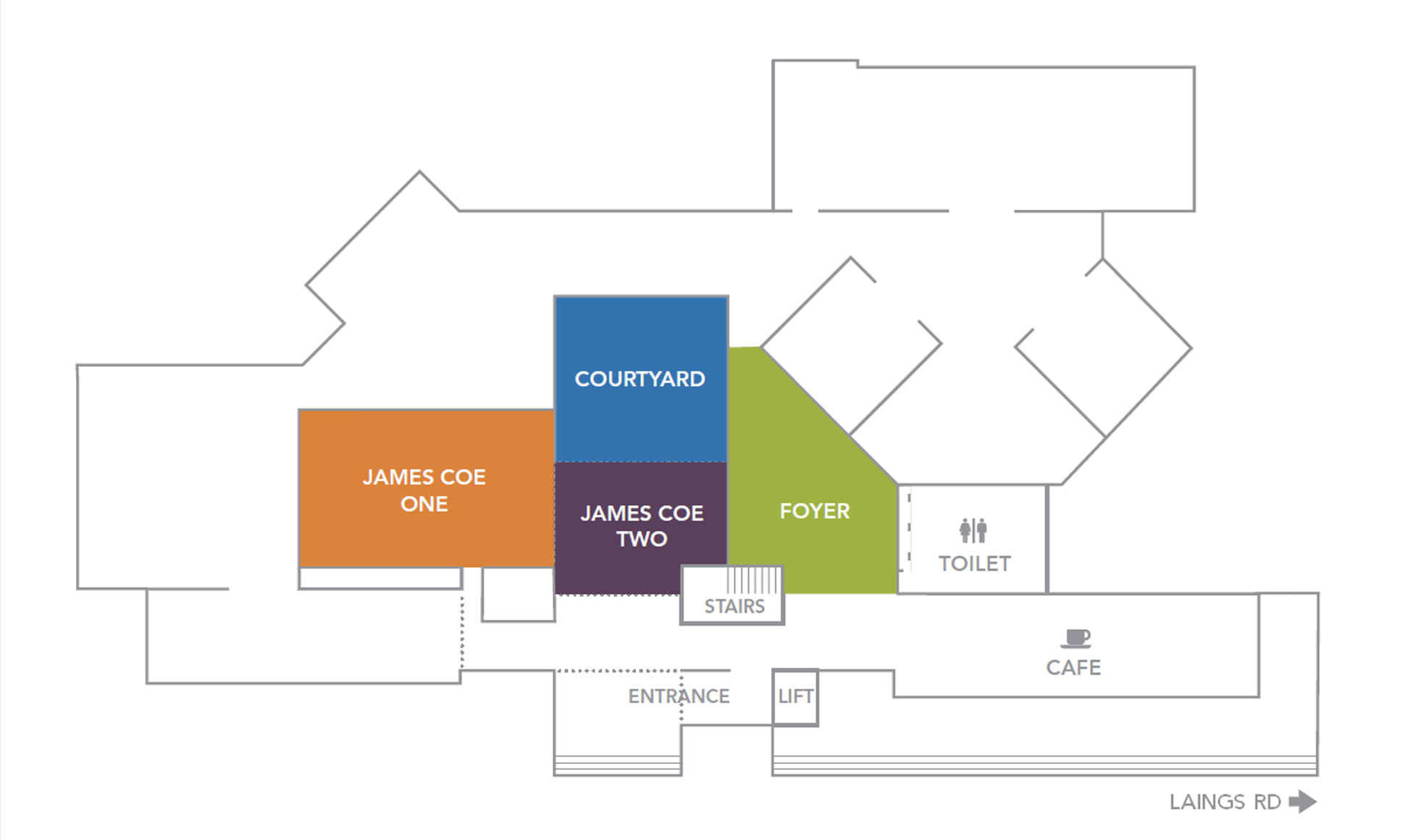 We work with a carefully vetted group of caterers who are experienced delivering in high quality food in a Museum environment. Once you've selected your caterer and menu, we'll work closely with them to ensure that the food and drink service runs smoothly and seamlessly at your event.
Our preferred caterers include: