Visit us
The Dowse Art Museum is a free public gallery for people to enjoy contemporary art and culture.
Open Tuesday - Sunday 10am - 5pm
Closed Christmas Day, Boxing Day and New Year's Day
The Dowse Art Museum is located at 45 Laings Road in Lower Hutt, New Zealand.
Driving here
We're a 15 minute drive from central Wellington. Here's how to get here:Take Great Harbour Way / Te Aranui o Pōneke and State Hwy 2 to Stevens Grove in Hutt Central, Lower Hutt.
Drive to Stevens Grove.
Park up by the Council and start exploring our collection.
Find out the quickest way to get to The Dowse with Google Maps.
Taking public transport
The closest bus stop is Bunny Street - Queensgate Mall. We're a short walk from there.
Buses: 120, 130, 83
Train: HVL
Plan your trip to The Dowse with the Metlink website.
Walking & Biking
Located in the heart of downtown Lower Hutt, The Dowse is close to High Street and the river. Walking and biking here is easy, and you can lock your bike up right outside.
Parking
There is on-street parking on Laings Street, Myrtle Street, and Stevens Grove. There is also parking adjacent to The Events Centre.
Parking is free on Saturdays and Sundays.
An electric car charging space is also available for EV drivers.
Find out more about how much parking costs near The Dowse on the Hutt City Council website.
There are two wheelchairs for free public use from the front desk and lift access to the second floor.
Accessible toilets
Located on both levels.
Accessible parking
In the parking lot directly outside The Dowse by the Stevens Grove entrance.
Assistive devices and medical supplies
If you need to bring your assistive devices and medical supplies to fully enjoy The Dowse, contact us and we'll do what we can to help.
Guide dogs
Service animals are welcome at The Dowse. Water can be provided on request.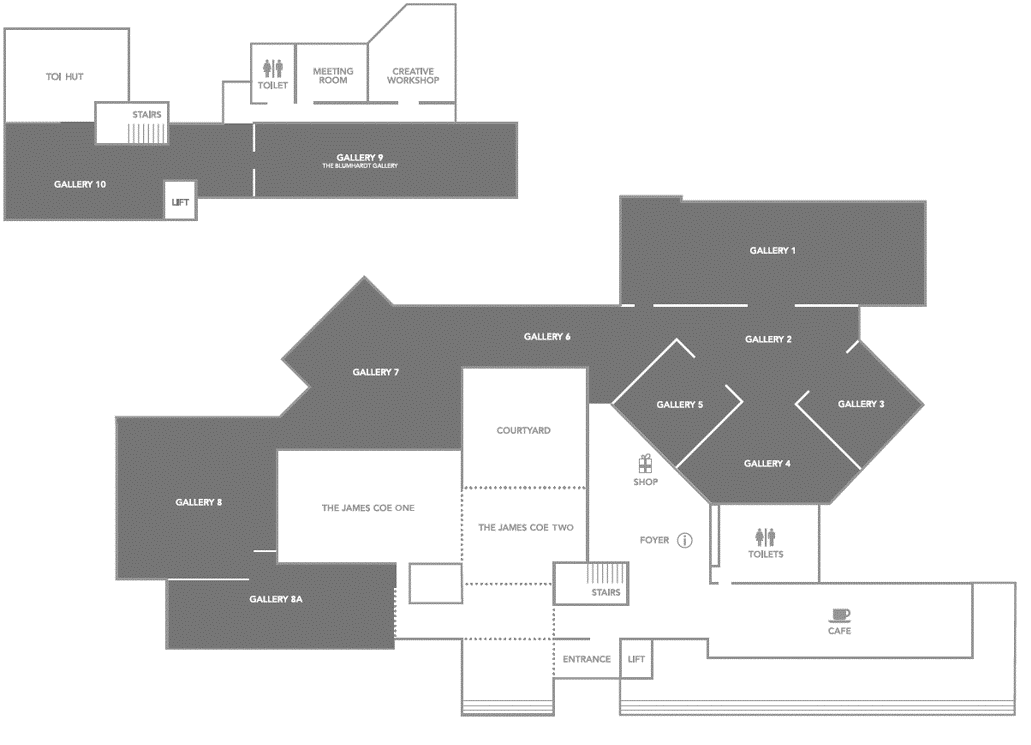 Book a tour for your tertiary students, or work with us to create a tailor-made learning experience. Explore our exhibitions led by our curators, educators or pou tiaki.
For more information or to make a booking, please contact education@dowse.org.nz.
Photography
You can take photos during your visit, but not of exhibits with a 'No photography' sign. Please don't use a flash as it can damage the artworks.
Tag us on social media with @thedowse or #thedowse.
Wi-Fi
You can use HCC-Public Wi-Fi for free. Just connect through your device. You don't need a password.