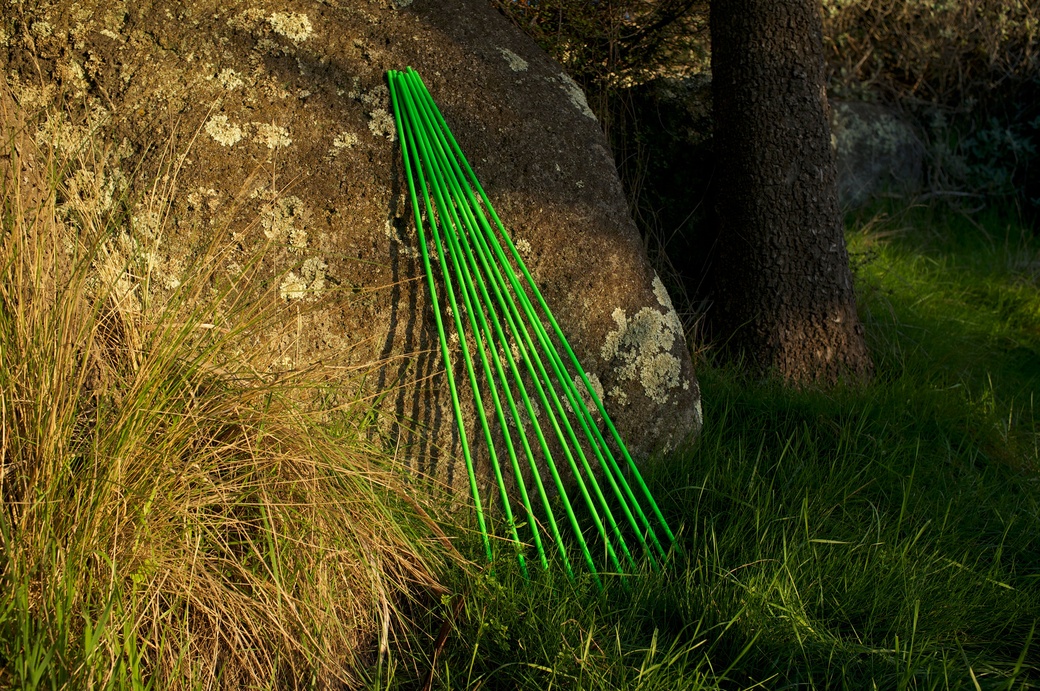 Christine Hellyar, Maureen Lander, Vivian Lynn, Pauline Rhodes, The Estate of L. Budd
Embodied Knowledge is a new exhibition presenting significant sculptural works made by women artists during a tumultuous period of Aotearoa New Zealand's art history. The artists challenged and dissected many aspects of the dominant culture they worked within, from the way language shapes our understanding of the world to environmental concerns.
The term 'embodied knowledge' describes knowledge that is unspoken, contingent and situated; that is understood through experiences of living in a specific time, place and cultural context. Featuring the work of Christine Hellyar, Maureen Lander, Vivian Lynn, Pauline Rhodes and The Estate of L. Budd, the exhibition engages histories of feminism, critical theory and installation art practice in Aotearoa New Zealand, with a focus on artists who think through the body.
Embodied Knowledge includes a selection of works from the 1980s that were made using ephemeral materials, site specific and performative or process-based practices. These include Pauline Rhodes' Extensum/Extensor (1982), which the artist is reconfiguring for the work's first presentation since 1987, and Vivian Lynn's major installation work Lamella Lamina (1983), shown here at The Dowse in 1983.
A group of works from The Estate of L Budd, produced in the 1980s and 1990s, concentrate on language and the construction of meaning. Three works by Christine Hellyar from The Dowse's permanent collection reveal the artist's interest in innovative and natural materials, and museum systems of collection, classification and display.
Works by Maureen Lander that continue an idea from her first installation in 1986 are included in the exhibition, showing how the artist has adapted traditional indigenous materials, such as pingao and harakeke, and weaving processes into a unique installation practice. The exhibition is completed by a new commission by Pauline Rhodes, Intensum/Many Voices, which the artist will install specifically for this exhibition.
Looking back to the 1980s as a foundational moment for contemporary art, Embodied Knowledge presents important artists and works from this period and considers the ongoing influence of embodied knowledge as a conceptual approach for artists.
Curated by Senior Curator, Melanie Oliver
RELATED EVENTS
NO COMMON GROUND
Saturday 7 July 2018 | 10am-5pm | Victoria University of Wellington
A one day symposium addressing histories of feminist art, mana wahine and queer practice, co-organised by Adam Art Gallery Te Pataka Toi, The Dowse Art Museum and Enjoy Public Art Gallery.
Can Tame Anything
04 Aug – 25 Nov 2018
Extending the themes of the concurrent exhibition Embodied Knowledge, Can Tame Anything features the work of contemporary artists Ruth Buchanan, Alicia Frankovich, Mata Aho Collective, and Sriwhana Spong.
The title for this exhibition was contributed by Ruth Buchanan, a framing device to be shown alongside several other works.
IN THE MEDIA
Obituary: Vivian Lynn - artist, teacher and feminist, Christina Barton, 28 Dec 2018, Stuff.
Embodied Knowledge, Ann Warnock, July 2018, Life & Leisure
Before Words Get in Between, Kirsty Baker, 28 Sep 2018, Pantograph Punch