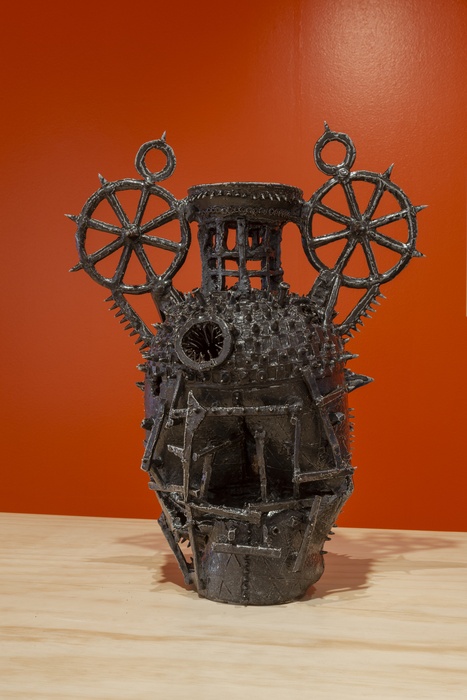 Bold, joyful and confronting, this exhibition brings together a group of rule breakers, whose organic constructions expand ideas of ceramics beyond the objects we use every day.
You won't find a cup or a bowl in Dirty Ceramics, but you can expect to see the work of artists who push the limits of clay with building methods like slapping, puncturing, tearing; applying colourful resins, nail polish and spray paint and even breaking and re-firing their pieces.
These artists draw from many influences, including fine art practices like painting, sculpture and printmaking, and are part of a New Zealand chapter in a little-known history of ceramics. This story begins after World War II with collectives like the Sodeisha group in Japan, and the Otis College of Art and Design in the USA, who challenged the mentality that clay could only be used for domestic ware. In the 21st century, this kind of approach to ceramics can be considered under the term "Sloppy Craft", which is used to describe the work of artists who choose techniques that enable them to make personal statements about society or the heritage of craft.
Regardless of their intentions, the artists in Dirty Ceramics share a passion for clay and enjoy the freedom it gives them to experiment—cherishing the process as much as the finished pieces.
Dirty Ceramics includes the work of Blue Black, Jaime Jenkins, Jake Walker, Jim Cooper, Laurie Steer, Nichola Shanley, Madeleine Child, Peter Hawkesby, Tracy Keith and Virginia Leonard.
IN THE MEDIA
Virginia Leonard, Art Collector Magazine #89, July - Sep 2019. Sue Gardiner.
The Dowse welcomes Spring with nature-themed exhibitions, 19 Sep 2019. Dominion Post & stuff.co.nz, Eleanor Wenman.