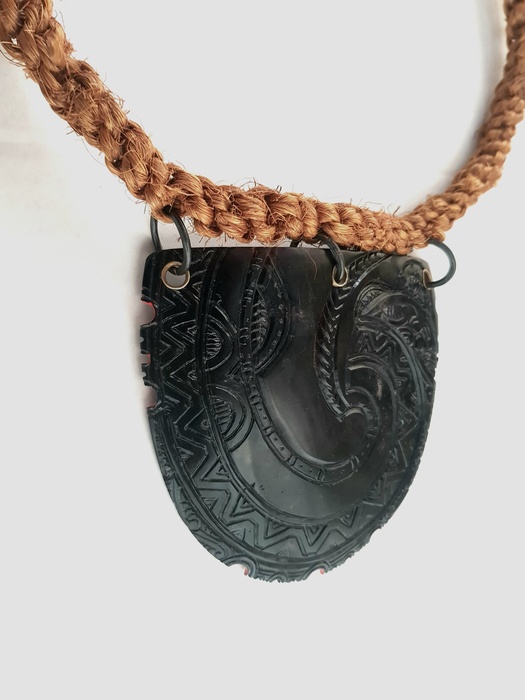 "We are all connected, us Pacific islanders, our ancestors are way finders—navigating the blue, super highway for centuries—encountering each other and diversifying through trade, people and goods, materials and art. Together we carry culture, language, cosmology, stories and experiences, including being colonised by Western invaders." Neke Moa
Using her exceptional pounamu and shell carving skills, Upper Hutt based Neke Moa (Ngāti Kahungunu, Ngāti Porou, Kai Tahu, Tūwharetoa) reflects on her recent travels across Te Moananui-a-Kiwa (the Pacific) and how these experiences have influenced her practice.
In this exhibition, Moa presents Kuki kai kai Kuki – Cook food eat Cook (2018) for the first time in Aotearoa, alongside two new bodies of work called Ko hai ho hingoa – What is your name? and Toto – Blood (2019). Together, these pieces draw from whakatauki (proverbs), oral histories and the mauri (spirit) and knowledge of her ancestors, while critically responding to the 250th anniversary of James Cook's arrival in Aotearoa.
BIOGRAPHY
Neke Moa (Ngāti Kahungunu, Ngāti Porou, Kai Tahu, Tūwharetoa) was born in Devonport, Auckland, in 1971. In 2000 she gained a Diploma of Design and Art at Te Wānanga-o-Raukawa, after which she went on to complete a Bachelor of Applied Arts in 2007 at Whitireia NZ.
Moa has exhibited widely across Aotearoa and also internationally through The Handshake Project in Munich, Prague, Australia, London and Thailand (2010-2018). She represented Aotearoa in 2016 at the 12th Festival of Pacific Arts (Guahan) and 2015 at Schmuck (Munich). In 2014, Moa was selected for Wunderrūma, curated by Warwick Freeman and Karl Fritsch for The Dowse, which toured to Galerie Handwerk (Munich).
RELATED MEDIA
Te Ao Hurihuri – Ever Changing World, HANDSHAKE collaborative exhibiton, 23 – 27 October 2018 featuring works by Neke Moa.
Art Speaks to Power, The Dowse media release , 26 June 2019