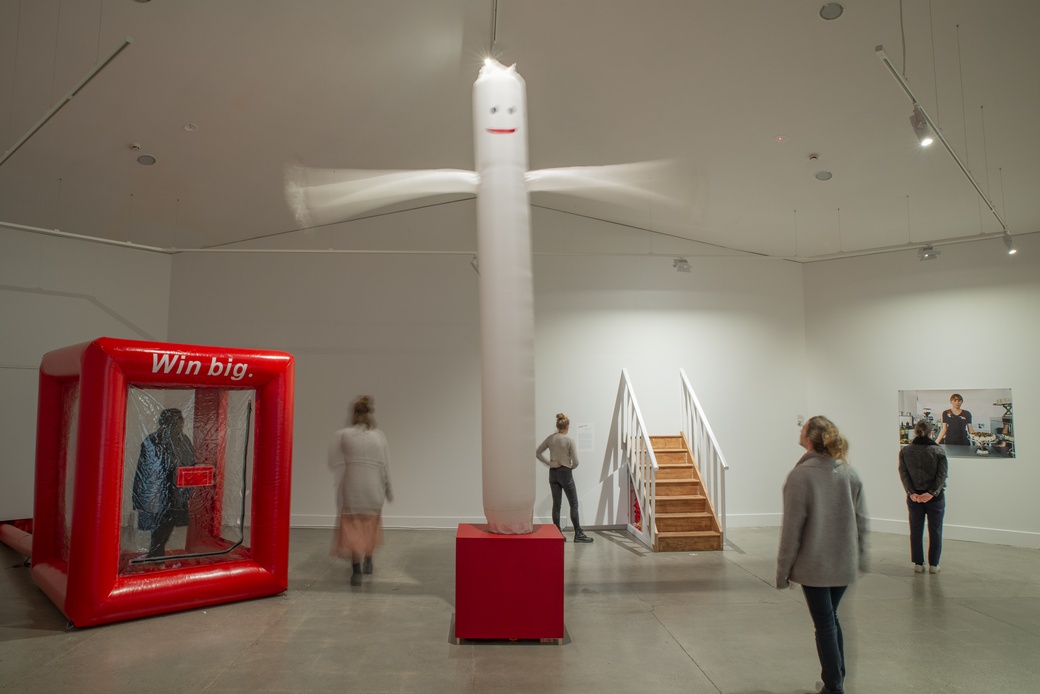 Featuring Liz Allan, Berwick Street Collective, Bruce Connew, Harun Farocki, Kauri Hawkins, Fiona Jack, Darcy Lange, Elisabeth Pointon, Public Share, Deborah Rundle, Allan Sekula & Noël Burch, John Vea, Peter Wareing
The Future of Work looks at the changing nature of our working lives and the impact of ever-increasing automation and globalization. The exhibition includes archival material about industry in Lower Hutt and features a range of artists whose practices address labour, work culture and collective action.
Lower Hutt is a working class city, a place with a long history as a site of trade and manufacturing. In the nineteenth century, three industries in particular came to drive the local economy: the woollen mills, the meat works, and the railway workshops. Alongside these, in the twentieth century factories such as Unilever, Griffins and Ford blossomed, employing many thousands of local workers. Following the closure of the majority of these businesses, the focus in recent times has shifted for the city towards light industry, research and innovation.
In conjunction with burgeoning industry over the years, Lower Hutt led the way with demands for workers' rights. It was Petone carpenter Samuel Parnell who fought for the 8-hour working day, and several moments of union action in Lower Hutt have been critical, such as the Petone Woolen Mills strike of 1890 – the most prolonged to have occurred in New Zealand at the time.
Today, the world of work is vastly different to the past era of businesses founded on manual production processes. The impact of the digital age and potential for automation has significantly altered the way that we communicate, live and work. Coupled with this, ever-growing globalization and the accelerated flow of capital, products and labour has led to unpredictable and unstable markets.
As our working conditions continue to change rapidly, workers are under greater pressure, working under precarious contracts that claim to provide flexibility yet offer little security, and an expectation that we are available 24/7. This has resulted in an expansion of inequality and escalating health, housing and social issues.
The Future of Work presents a context for labour and activism through the history of Lower Hutt. It provides historical material and narratives as a way to understand the practices of contemporary artists who are concerned with aspects of work and how these shifts impact on individuals, families and communities.
IN THE MEDIA
Art Speaks to Power, The Dowse media release , 26 June 2019
The Future of Work, Mark Amery interviews artists Fiona Jack and Elizabeth Pointon, RNZ Standing Room Only, 28 July 2019