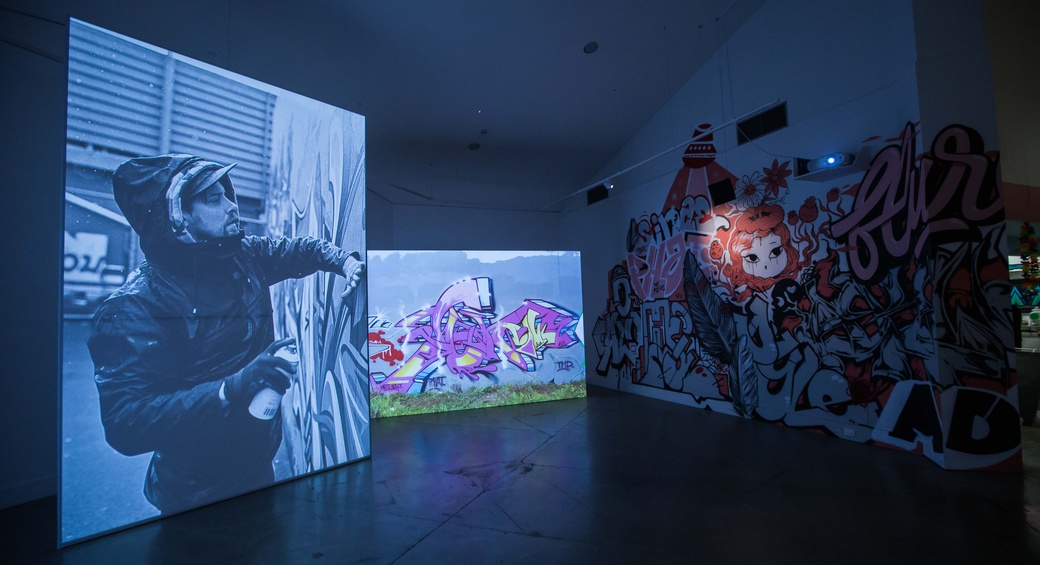 This immersive experience tells the story of TMD (The Most Dedicated) Crew, Aotearoa's most renowned international street art collective. Featuring the work of over 20 of its members, visitors will be able to delve into the origins and evolution of this graffiti super group.
"The rise of TMD as a creative collective has its origins in Auckland's mid to late 90's graffiti scene. The post-recessionary environment after the 1987 stock market crash was the perfect incubator for a thriving and vibrant Hip-Hop scene with a uniquely pacific slant... - the city provided an abundance of grey area where these young people could forge lifelong bonds, while cementing their sense of identity. With humble beginnings from this crew emerged its fair share of unsung and underground heroes as well as many of Aotearoa's first global stars in the graffiti and large scale street art arena." – ASKEW ONE
With zones that explore the various phases of the crews history and evolution, this exhibition offers multiple ways for visitors to learn more and interact with this dynamic strand of Aotearoa's art history. Pop into a 90's dairy to get your TMD merch, drop in for a 'writing' session in the flat, be surrounded by the larger than life AV display, and go deep with the crew's most contemporary works to date.
Street art is one of many diverse forms of contemporary art and this exhibition provides an opportunity for everyone to learn about its evolution as a contemporary art genre through the lens of Aotearoa's most highly respected and internationally renowned urban street art crew. This exhibition does not condone illegal damage, the defacing of property or unnecessary risk but suggests that there are other artforms that sometimes sit outside of the mainstream that might provide an alternative career pathway.
"The transcendent nature of graffiti crosses many social divides. TMD started as a ragtag group of outsiders from around Auckland but grew into a family that includes members from Australia and Germany. As its members have evolved as people, started families, encountered hardship and success the bond built through a common interest has brought a powerful sense of cohesion." – PHAT1
Included in The Most Dedicated will be contributions from ACRE, ADDICT, ASKEW ONE (Elliot O'Donnell), BERST (Dr. Bobby Hung), DEUS (Elliot Francis Stewart), DYLE52 aka SAVES (Benjamin Work), EXIST*, FLURO (Holly Ross), HASER (Kairau Bradley), LADY DIVA (Janine Williams), Mark Henare, MISERY (Tanja Jade), ONEDEAP (Jamie McCready), PEST5 (Jonny 4Higher), PHAT1 (Charles Williams), RAMS*, RIMONI (Raymond Sagapolutele), RYZE (Gary Silipa), SOFLES, VANS THE OMEGA (Joel Van Moore), and WOW123 (Markus Genesius).
The Most Dedicated: An Aotearoa Graffiti Story is part of The Dowse Art Museum's 50th Anniversary programme. It continues our commitment to street art and urban art culture that was initiated through projects such as Respect: Hip Hop Aotearoa (2003), The New Cool (2005) and Common Ground (2009).
[WATCH] The Most Dedicated: An Aotearoa Graffiti Story at The Dowse, 2021
[WATCH] THE DAIRY_The Most Dedicated: An Aotearoa Graffiti Story at The Dowse, 2021
[WATCH] THE FLAT_The Most Dedicated: An Aotearoa Graffiti Story at The Dowse, 2021
[WATCH] The Most Dedicated: Street Art Festival takes over Lower Hutt
[WATCH] The Dowse x TMD Crew: Street Art Mentoring Programme