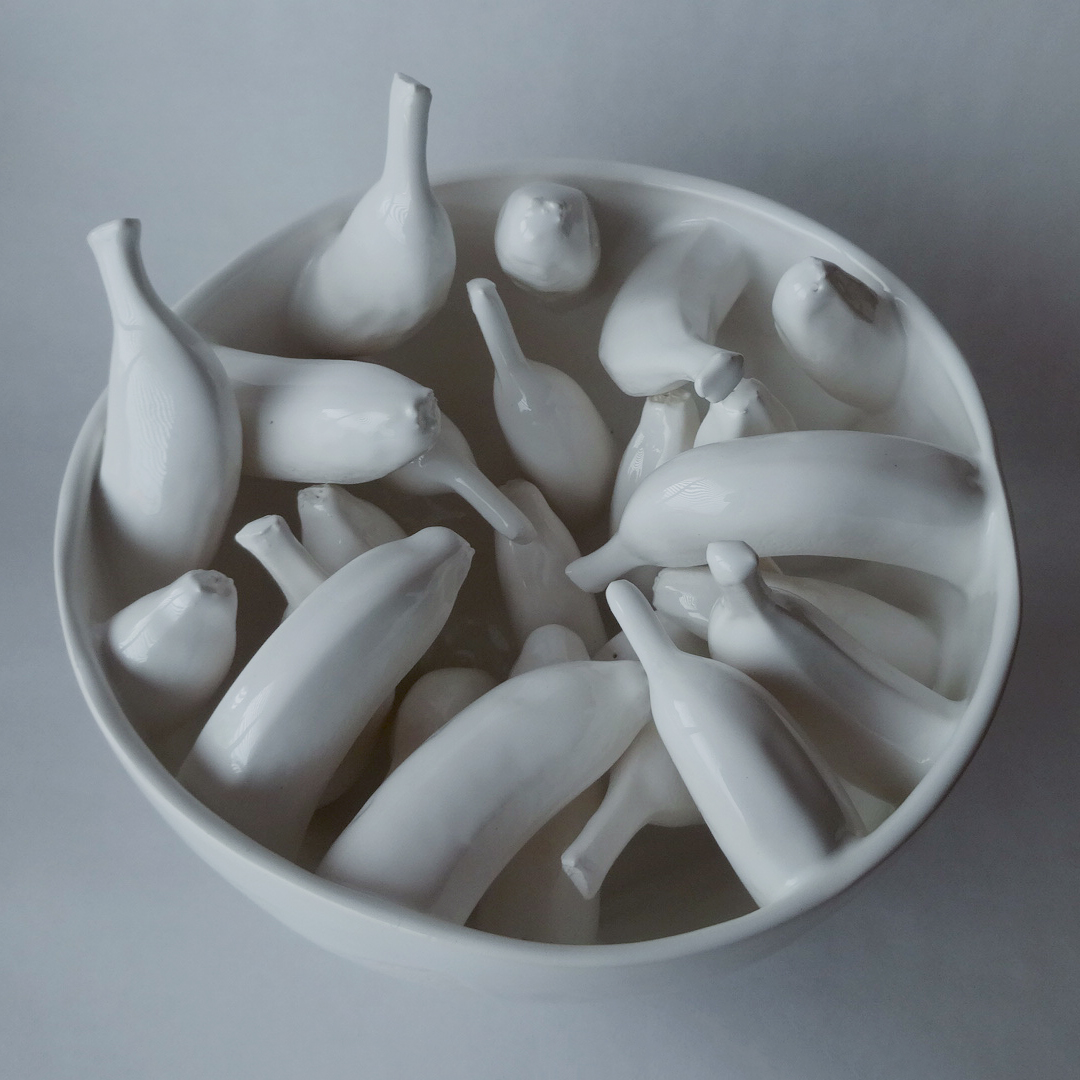 Oliver Cain, a Bachelor of Creative Enterprise third year student at Unitec in Auckland, has taken out the Supreme Award at this year's ECC NZ Student Craft / Design Award, held at The Dowse Art Museum in Lower Hutt.
Banana Fruit Bowls, a collection of ceramic bowls with extruding banana forms referencing queer culture in a playful and non-confronting way won top prize from over 100 entries from across the country.
The judges were immediately drawn to the work and the whimsical use of high gloss white ceramic to tell a story of social constructions of shame, anonymity and sexuality of homosexual men.
"These pieces are carefully considered and use a light-hearted approach to talk to a specific message of sexuality - the use of bananas is brilliant and you instantly get the message he is trying to convey" says Heather Crichton, organiser of the awards and committee member of The Friends of The Dowse.
Cain receives $2,000 for winning the Supreme Award and also took out the Tuatara Ceramics Award valued at $1,000.
Over 30 years in the running, the ECC NZ Student Craft / Design Award encourages innovation and creativity and gives students the opportunity to step into creative industries with a coveted award to their name.
The winning entries are currently on display at The Dowse Art Museum until Saturday 16th November.
The awards are run and were founded by the Friends of the Dowse. This year's judges were: Anita Dykes (Design Consultant, ECC), Federico Monsalve, (Editor, Urbis) Ian Douglas (The Village Goldsmith), Karl Chitham (Director of The Dowse Art Museum) and guest judge Marilou Dadat (Head Designer Kowtow).
The L'affare Innovation in Sustainability Award was won by Steven Almond from Victoria University for Circular Economy Sofa System, a sofa designed with repair, reuse and recycling in mind. A true end-of-life design which was developed after Almond noticed the number of obsolete sofas on the streets of Wellington.
Other winners on the night was Massey University Bachelor of Design industrial design graduate Sian Hosking Berge who won the ECC Furniture and Product Design Award with BOU, a clever kitset balance bike and scooter for 2-5-year olds, that enables children to experience creating their own ride-on toy. The ECC Lighting Award went to Samuel Bryan for Yoko, an exquisitely crafted wooden suspended lamp.
The Village Goldsmith Jewellery Award went to Sarah Harvey from Tai Poutini Polytech for Suspension made of jade and inspired by suspension bridges. She also took out the ECC People's Choice Award.
The Friends of The Dowse Fashion and Textile Award went to Susan Richardson from Otago Polytechnic for her textile piece Molyneux Rediscovered, a found rusted object with knitted lichen. Each of the category winners receive $1,000.
Highly Commended entries in the Lighting category went to Tessa Williams (Massey University) for Te Whare Wananga, and Matthew Ford (Victoria University) for Lux Harp. Furniture and Product Design category Highly Commended awards went to Caprece Trail, Brianna Conelly, Anna-Maria Nilsson and Austin Martin for chair 5th degree (Massey University), Solomon Meredith and Hamish Maunsell (Massey University) for chair Tulum Riser and Steven Almond (Victoria University) for Circular Economy Sofa System.
Also, Highly Commended in the Jewellery category was Kotahi by Milo Meldrum (Whitirea). In the Fashion and Textile category Highly Commended awards went to Johani Louw (Massey University) for her collection Salient, Guinevere Cherrill (Massey University) for Contrast of Saturation, Tallulah Farrar (Massey University) for GLOW and Hope Duncan (Otago Polytechnic) for Careful Where You Tread!