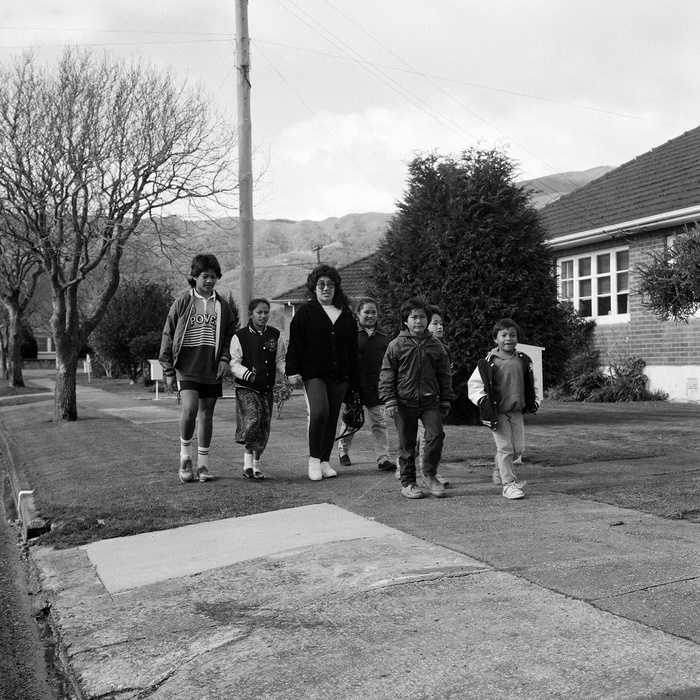 When we think about our place in Te Awakairangi, Lower Hutt, how do we see ourselves?
Between 1988 and 1989, photographer Ans Westra undertook a residency with The Dowse that enabled her to roam the streets of Te Awakairangi between the city centre, Petone and Naenae and take photos to capture a sense of our communities here.
Three decades after these images were made, Ans Westra's photographs are like a time capsule and a beautiful record of how local people and places both have and haven't changed. Even though our suburbs are still relatively young, these images show us how a history has already accumulated here that contributes to who we are.
In 1991, photographs from this residency were exhibited at The Dowse and purchased for our collection. In Time Capsule: Ans Westra in the Hutt we will be showing some of these images together again, as well as a new selection focussing on Naenae at Coco Pop Up Community Space and as billboards in the spots they were originally taken.
Ans Westra is a pioneer of documentary photography in New Zealand and one of the very first women to work in this genre here. Born in Leiden, Holland, in 1936, she completed a Diploma in Textile Arts at Industrieschool voor Meisjes, Rotterdam. Westra immigrated to New Zealand in 1957 and became a self-taught, full-time photographer in the early '60s, shooting to national attention shortly after with images she took of Māori in a School Bulletin publication called Washday at the Pa.
In 1998 Westra was awarded the Companion of the Order of New Zealand Merit for services to photography. A major exhibition of her work curated by Luit Bieringa, Handboek: Ans Westra photographs, opened at the National Library Gallery in 2004 with an accompanying book and film, which went on to tour major centres in New Zealand and the Museum voor Volkenkunde in Leiden. In 2006 a documentary was made about the artist called Ans Westra: Private journeys/public thoughts and in 2007 she became an Arts Foundation of New Zealand Icon artist. In 2015 she received an honorary doctorate from Massey University in recognition of her long-standing contribution to New Zealand's visual culture.
Ans Westra lives in Tirohanga, Te Awakairangi Lower Hutt.
This project has three parts: photos can be seen in at CoCo Pop Up Community Space, Hillary Court, as nine billboards around Naenae, and in an exhibition at The Dowse. All three parts run from 29 January – 1 May 2022.
To see the prints at Coco Pop Up Community Space, you can visit at these times: Monday: 10am-12pm, Tuesday: 3-5pm, Wednesday: 10am-12pm, Thursday: 3-5pm, Friday: 3-5pm.
Maps to find the billboards in Naenae can be picked up from The Dowse, Coco Pop Up Community Space and Naenae Library, or downloaded here.