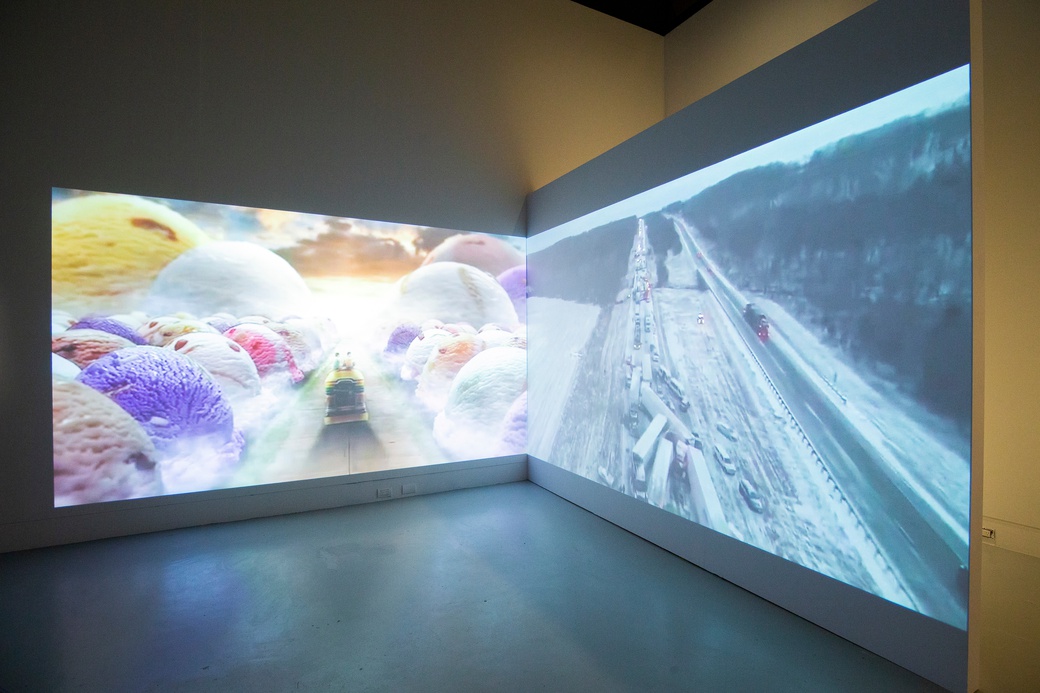 Lollies exploding out of faces, candy-coloured corporate dystopia and disaster-inflected dessert commercials feature in the pick 'n mix of artworks by contemporary international and Aotearoa-based artists in Candy Coated, opening at The Dowse Art Museum on 2 April 2021.
Curated by Dr Chelsea Nichols, Senior Curator at The Dowse, the ensemble of artists hitting the sweet spot in this exhibition are Rachel Maclean (Scotland), Jon Noorlander (Sweden), Alison Nguyen (USA), Patrick Smith (Puerto Rico) and Elisa Barczak (Germany/NZ) alongside Aotearoa-based artists, Laura Duffy, Sam Duckor-Jones, Emily Crooks, and Wayne Youle (Ngāpuhi, Ngāti Whakaeke, Ngati Pākehā).
The artists of Candy Coated have embraced gooey pink bubblegum delights - perhaps responding to that urge to comfort with sweets during troubled times. "Over the past couple of years I've been closely watching how some contemporary artists were responding to the intense upheavals and anxieties of the current world, but instead of dark angsty imagery, I noticed a repeated embrace of the sweet, sugary, cute, bubblegum aesthetic," says Dr Nichols.
"Of course, not all is fun and happy as it first appears. What first appears to be sweet is revealed to be rotten. The artists I've included challenge the seductive techniques of capitalism, question the dark side of 'self-care' and 'positivity', and explore the fine line between the sweet and sickening.
"Like the feeling of eating too many lollies, this exhibition will certainly stimulate the senses…in both a delicious and a queasy way," continues Nichols. "From ceramic candy to rotating skulls, this exhibition will be a tasty romp down the candy aisle and into some very dark places."
Candy Coated is part of The Dowse's 50th Anniversary programme. Since its founding in 1971, The Dowse has demonstrated a tradition of bringing a wide range of international art practices to local audiences. In the first decade alone, The Dowse showed exhibitions on Diane Arbus (1979) as well as exhibitions on Russian art (1973), works by French Masters (1973), German stamp design (1972) and Aboriginal Art (1977). More recently, exhibitions of international artists have included To The Moon: Laurie Anderson and Hsin-Chien Huang (2020) and The Language of Things: Meaning and Value in Contemporary Jewellery (2018). Candy Coated aims to extend the legacy of international exhibitions at The Dowse while exploring thematic similarities in artists around the world responding to a particularly anxious moment in history.
Candy Coated will be on at The Dowse until 4 July.