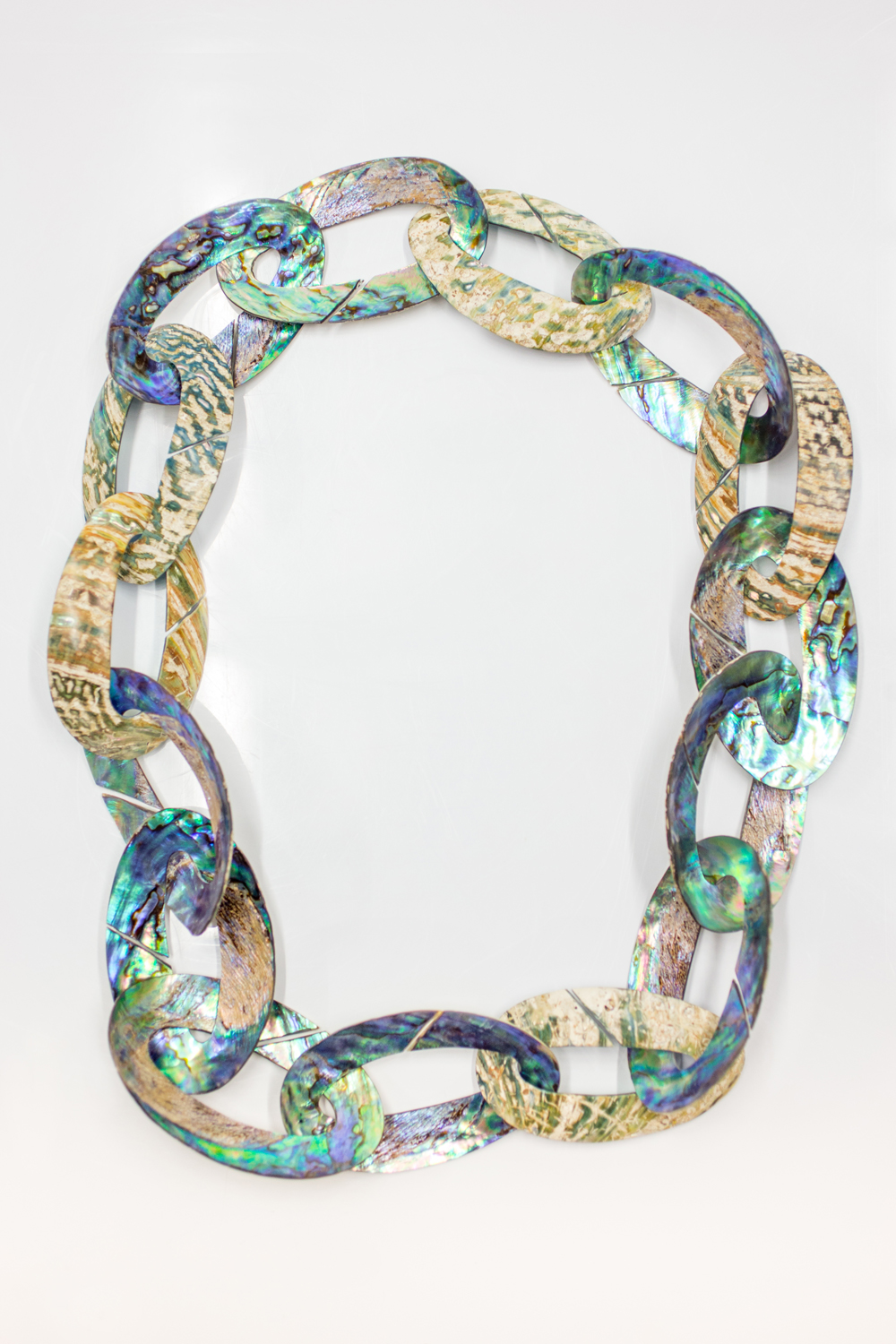 An incredible pāua chain necklace, pounamu mauri stones and a gold hei tiki: a new exhibition at The Dowse explores the kaupapa of hokohoko–exchange, trade, barter–within the contemporary jewellery community in Aotearoa.
Opening Saturday 21 March, Ngā Hokohoko charts connections and contrasts in materials and pivotal influences in jewellery, such as mātauranga Māori and Pasifika adornment.
Curated by Gina Matchitt (Te Arawa, Whakatōhea) 2019 Blumhardt/Creative New Zealand Curatorial Intern, the exhibition features several of the most innovative jewellers from the past 40 years.
"The exhibition includes the work of six contemporary jewellers who have used a variety of materials and approaches: from Areta Wilkinson's luxurious gold Hine Āhua and Huiarei (2013) to Alan Preston's Pāua Chain (1994), it's full of beautiful works from leading practitioners."
"Contemporary jewellery in Aotearoa has a strong history of innovative making," says Matchitt. "I wanted to emphasise the connections and influences between jewellers, the community that has grown over the years."
"At a time when our cultural identity is being hotly debated again, Ngā Hokohoko provides an example for how we can meaningfully exchange ideas between Māori, Pākehā and other cultures."
The exhibition includes the work of Pauline Bern, Matthew McIntyre-Wilson (Taranaki, Ngā Māhanga and Titahi), Neke Moa (Ngāti Kahungunu, Kāi Tahu, Ngāti Porou, Tūwharetoa), Alan Preston, Joe Sheehan and Areta Wilkinson (Kāi Tahu, Kāti Mamoe, Waitaha).
Ngā Hokohoko presents an essential understanding of indigenous materials and practice, reflected in the work of Māori and Pākehā makers.
Matchitt says: "I wanted to offer a more nuanced view of Māori jewellers, to show how they delve deeper into Māori knowledge and have different ways of using natural materials (shell, pounamu)."
"The importance of innovative teaching and mentorship is also stressed in the exhibition, and some of these craft programmes are now under threat so it's a good reminder of the significance of tertiary craft education."
Ngā Hokohoko opens Saturday 21 March 2020 at The Dowse, with a karakia at 10am, followed by a conversation between Matchitt and jewellers in the show.
Then at 12pm Professor Alan Preston & Dr Areta Wilkinson will revisit their prestigious presentation, 'Contemporary Jewellery Aotearoa New Zealand: Māori, Oceanic and International practices underpinning Fingers development of 40 years' – originally delivered at Schmuck in 2016.