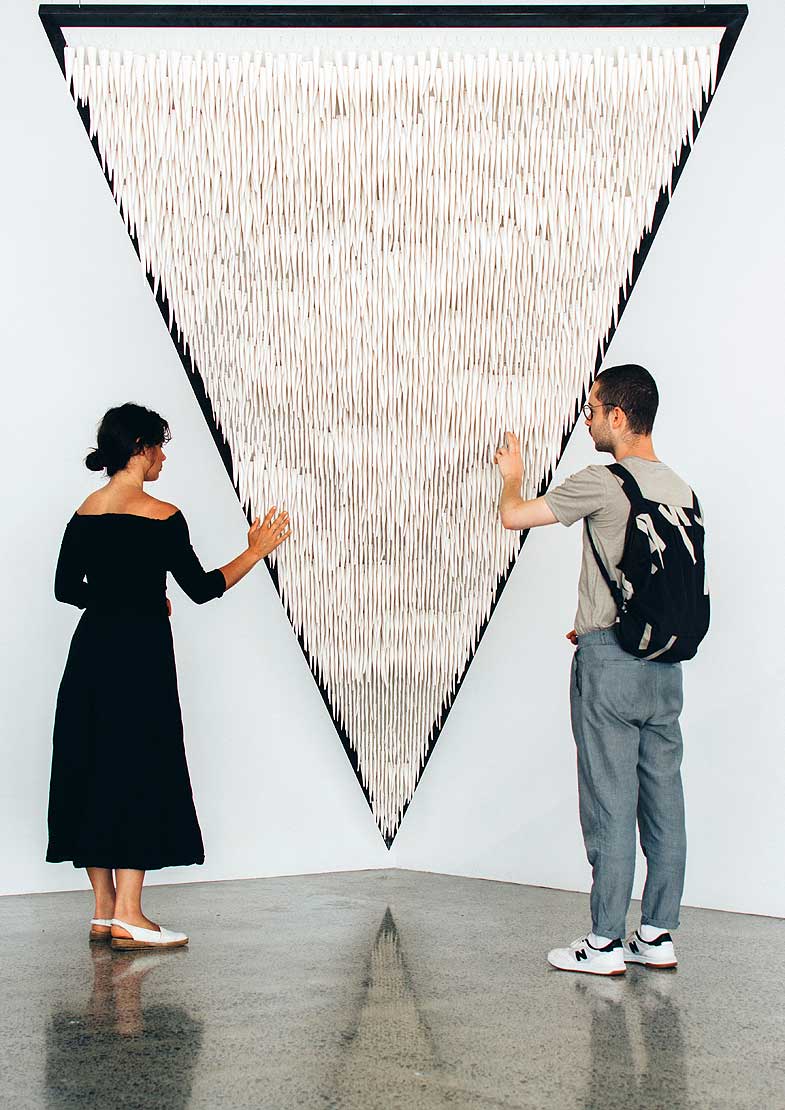 A multi-sensory audio-tactile installation made up of three-and-a-half-thousand individually handmade ceramic pieces by Imogen Zino, has been crowned the Supreme Winner at the ECC NZ Student Craft/Design awards.
Student artists, designers and illustrators and their whānau celebrated at The Dowse Art Museum in Lower Hutt on Thursday evening, 19 November, at the national awards for New Zealand tertiary students in the areas of design and craft.
AUT Master of Design graduate Imogen Zino created the Supreme Award winning entry, The Materiality of Winter, to enable a greater sense of connection between the internal sensory world of the participant and the inhabited environment. The installation is suspended from the ceiling and viewers can interact with the work, creating a living space that engages with touch and responds both audibly and dynamically with it. Zino also won the Friends of The Dowse Surface Design Award, taking away $1,000 and $2,000 for the Supreme Award.
"This is a delicate, fragile yet adorable interactive piece of work with a thoughtful sound experience," said the judges. "A magnificent installation that uses ceramics as a surface design and a very considered approach to the various levels of sound emitted. As Zino states in her entry submission - it creates a space within a space. It is a surface, a structure and an environment to be inhabited."
Two new award categories were introduced to the awards this year: The Friends of the Dowse Visual Communication Illustration Award and the Friends of The Dowse Surface Design Award.
The Surface Design Award, also won by Supreme Award winner Zino, recognises students who have explored and created new forms of surface design - a category which includes textile design plus pattern design, architectural surfaces, wall coverings and floor coverings.
"Surface Design is an emerging and growing design discipline and has a number of applications within government, the healthcare sector, travel, architecture, protective wear, sport, service industries and much more. Everything you see, touch and experience has a surface and we're particularly interested in seeing new and innovative surface design ideas in this exciting new category," says Heather Crichton, Awards Organiser.
Media Design School graduates Russell Hooton-Fox, Jack Whitehead, Case Dakota, and Desmond Cheong, won the inaugural Friends of the Dowse Visual Communication Illustration Award for their work Woven. Woven was a hands-on weaving experience created to connect the public with the Māori cultural values of manaakitanga and kaitiakitanga, held in central Auckland. The judges loved the fact that the project was used in an actual workshop and had real participation to bring the visual illustration to life.
The Visual Communication Illustration Award was introduced this year in response to the growing importance of illustration design in storytelling. This year, category judge Toby Morris, who collaborated with Dr Siouxsie Wiles on a series of informative illustrations to educate the public about COVID-19, has been viewed millions of times around the world, demonstrating how illustration can help disseminate important information in a simple way.
"The Visual Communication Award celebrates and encourages the use of illustration to tell stories. Stories that change culture, stories that educate, stories that communicate. We are particularly excited to see New Zealand related stories." says Crichton. "This Award recognises there is a huge talent in New Zealand in this growing area and we want to support those who are seeking to make a career as an illustrator, as the career possibilities for illustrators has grown since the rise of social and digital channels."
The Tuatara Ceramics Award was won by Otago Polytechnic student Eva Ding for her work This Is Us, which is made up of a large number of unglazed ceramic sticks made of different materials and are fired in different atmospheres. Each represents an individual, who together, constitutes our multi-cultural society.
"This intriguing and visually interesting piece allows the clay to speak for itself while also having a deep and meaningful story to tell. The intricate nature of the work, the vast array of textures and the varying forms of which this collection of sticks can be formed, reflects our society and cleverly conveys the story that Eva is wanting to communicate," said the judges.
Massey University PhD student Erana Kaa won the Friends of the Dowse Fashion Design award for Te Kākahu ō Te Kaikaranga, a garment collection employing an indigenised approach to construction, based on Māori visual language that enhances the role of kaikaranga (the woman, or women, who has the role of making the ceremonial call to visitors onto a marae, or equivalent venue, at the start of a pōwhiri).
The judges said, "All the layers of the design including the story, the construction, the shape and the movement is what demonstrates a successful approach to her design through the use of Māori visual language. This is a very poetic collection with a blend of mainstream and traditional influences."
The ECC Furniture Design Award was given to Victoria University industrial design student Andrew Roberts, for his Te Wheke design, a parametrically designed outdoor bench made for Victoria University's Living Pa campus. The inspiration for the form came from te wheke (octopus), and the bench was built with a laser cut sheet of recycled Corten steel.
The winner of the Village Goldsmith Jewellery Design Award was Otago Polytechnic Master of Fine Arts student Simon Swale for Fairtrade?, a scale replica of a discarded banana box in cotton fabric and brass which responds to the exploitive practices of banana production.
Victoria University Master of Design graduate Courtney Naismith won the ECC Lighting Design Award for Digitally-crafted, a series of 3D-printed upcycled baskets repurposing soft plastic and flax waste within the Aviation Tourism Industry.
The ECC Product Design Award was won by Massey University industrial design students Lucy Grunfield and Saskia Jamieson for their project Shape Shifter, a children's modular building toy made out of sustainable materials with interlocking pieces to inspire creativity and develop fine motor skills.
Victoria University Master of Design student Matthew O'Hagan won the The L'affare Innovation in Sustainability Award for The Scale Seat, a furniture piece created from used plastic fishing gear through a 3D printing upcycling initiative. "In a world where sustainable solutions are increasingly needed, it is exciting to see the reforming of used materials, and in this case discarded fishing buoys, into usable objects. The surface texture and its black form would look good on any outdoor deck or lounge," said the judges.
Each year the public get to vote on their favourite design, and this year's People's Choice Award went to AUT design student Liam Nguyen. Sacred Animals is a set of postcards about Vietnamese architectural decorations and stories behind them, inspired by a desire to educate New Zealanders about Vietnamese culture.
The judges for the awards this year were Karl Chitham, director of The Dowse Art Museum, Anita Dykes, lighting design consultant at ECC, Ian Douglas of The Village Goldsmith, Marilou Dadat, head designer of Kowtow, Richard Cutfield, director of Formway and Goodnature, Neke Moa, artist and designer, and Toby Morris, illustrator.
The ECC NZ Student Craft/Design Awards is in its 31st year and is open to all students who are currently enrolled to study in 2020 or who have completed their studies in 2019. The awards has been supported by The Friends of The Dowse since 1986 to offer New Zealand tertiary students an Award scheme designed to encourage innovation and creativity specifically in the areas of design and craft.